Commercial Casework, Cabinetry, and Millwork Products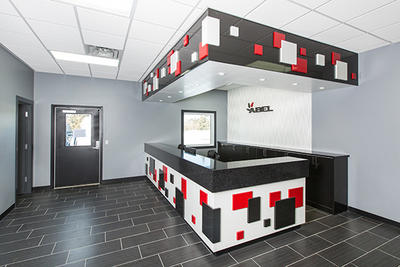 From stylish reception desks to large quantity orders of computer workstations, we can handle your job!
Fine cabinetry, shelving, casework, and wood furniture can transform the appearance of your business while adding another dimension of comfort and convenience for employees, customers, and clients alike. Interior design contributes a lot to your brand's reputation and professional image, and if you're a builder or general contractor your clients will appreciate fine products that improve the ambiance and functionality of their space. Fortunately, ABEL Corporation has you covered on all fronts.
The attention and care we invest in our commercial cabinetry systems and wood fixtures bring a distinctive, appealing energy to offices, restaurants, retail spaces, hotels, and any other setting where fine millwork products and solutions are needed. Whatever you need, ABEL Corp. can build it to the exact specifications you require and the finest quality standards you expect. Examples of the commercial millwork products we build include:
Reception desks
Custom workstations
Teller stations
Restaurant fixtures (booths, tables, etc.)
Custom display cases
Perimeter wall shelving
And more!
On-Site Manufacturing
Each and every product we deliver is fabricated onsite within our state-of-the-art millwork plant. Unlike some of the other major commercial cabinetry and millwork companies in North America, we take ownership of every step in the manufacturing process. Our attention to detail and obsessive quality standards gives us some major advantages over the competition, not the least of which is the very finest commercial cabinets and millwork products. Other benefits of our onsite manufacturing process include:
Last-minute changes to scope and spec are no problem for us, since all of the "moving parts" involved in filling your order reside with us
We can provide you with more accurate and timely status updates so you know exactly how your products are coming and when you can expect your order to be delivered
We can quickly reproduce any item you ordered in the event that you need to add a few more pieces to your project (or a few thousand more)
For large volume projects, we will pre-build your concept free of charge in one of our live mockup rooms. We provide clients with a real-time video feed from inside the room so they can see the fixture take shape before their eyes and change anything they don't like. By bringing you inside our manufacturing plant as your product is being built, we give you total creative and quality control to ensure the finished item is exactly what you want before we ramp up production and fill your entire order. This has the potential to save you an incredible amount of time and money. As your partner, we aim for nothing less.
Logistics, Scoping, and Project Management Experience
Our skilled craftsmen bring hundreds of years of combined cabinetry and millwork experience, and we leverage their talents to deliver the very best products. Our management team also has a deep understanding of fine cabinet making and millwork, which helps us accurately capture your vision and turn it into a reality that exceeds your expectations. It doesn't matter whether you talk to one of our craftsmen in the plant or the CEO of the company, everyone here at ABEL Corp. knows what it takes to deliver a quality product. You can say we're pretty passionate about what we do, and it shows in each and every custom millwork piece we deliver for commercial clients like you.
We also pride ourselves on accurately estimating budgets the first time better than any other commercial cabinetry and millwork company in North America. By scoping your project correctly at the beginning, we're able to help you better allocate resources to complete the job on time and on budget. We also make sure that your order is fit to spec and advise you on the best materials, designs, and finishes to meet your functional needs and budgetary constraints. For commercial builders and general contractors, our scopes can also make the difference between getting the job and getting passed over. And if you do win the contract, you can be confident with our estimate that you didn't underbid and won't be at risk for any monetary losses.
Fine Commercial Millwork Products Delivered Fast
Thanks to our state-of-the-art equipment, skilled workforce, and far-reaching transportation network, ABEL Corp. is uniquely positioned to fulfill all aspects of your project regardless of the complexity of the work or the number of items requested, and our turnaround time is among the fastest in the industry. For rush deliveries, we'll keep our manufacturing plant running 24/7 until every last item is finished and your order is filled to the exact specs you need and the quality standards you deserve.
ABEL Corporation: Quality is in Our DNA
ABEL Corp. originally became one of the largest commercial cabinetry manufacturers and millwork services through word-of-mouth alone. Our products spoke for themselves, and our clients were happy to recommend us to anyone looking for fine commercial cabinetry and custom millwork pieces. We take great pride in the fact that our company grew entirely on the backs of the quality products we manufactured then and continue to manufacture today. We're also overjoyed that we've been able to help so many businesses and organizations reap the benefits of having cabinetry and millwork pieces that are attractive and built to last.
Our products excel in accuracy, durability, beauty, and pricing. Contact us online or call (877) 440-2235 to speak with one of our project managers about your commercial millwork needs.
Contact the sales team for a consultation on how we can help with your project at 1-877-440-ABEL.