Industrial Cabinet Design & Casework Solution Supplier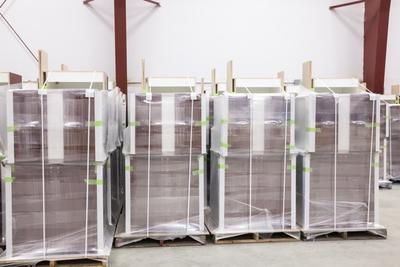 Within the modular building industry, no one makes higher quality cabinetry and furniture than ABEL Corporation. And if your mission is to complete a modular build on time and within budget without sacrificing aesthetics, durability, or performance, there's no better choice than ABEL Corp.
From single building projects to large-scale complexes that accommodate thousands of people, we have the experience to deliver what you need and the confidence to say we'll do it better than anyone else. More importantly, we go above and beyond to make sure that all of your needs are met, even those needs you might not be aware of at the moment.
Through careful planning, we're able to position ourselves as your partner and put to work all of our industry knowledge and collective experience to help you save time and money. We design and build industrial-grade cabinetry, furniture, and millwork products to accommodate the needs of any sized modular build, including:
Workforce housing
Military facilities
Hotel rooms and suites
Schools and universities
Medical centers
Custom projects
With our knowledge and expertise, we guarantee your project will be successful when you partner with ABEL Corp. to fill your modular cabinetry and furniture needs.
The Highest Quality Products for the Most Demanding Projects
Our robust products are designed, engineered, and built to withstand the pressure and conditions of heavy usage in the most demanding environments. Our products retain their durability, functionality, and appearance longer than the competition. In fact, our cabinets and modular furniture pieces are crafted using the highest quality materials and built with longevity in mind to give our customers total confidence in the pieces they receive.
ABEL Corp. has provided cabinet systems and modular furniture for some of the biggest workforce housing complexes in North America. The builders who erected these structures anticipated the wear and tear their hardworking tenants would put on their rooms, which is why they put their trust in us to provide them with the most rugged and durable wood products that were capable of withstanding heavy abuse. If our products can stand up to the demands and rigors of workforce housing, we're confident they'll perform better and longer than the competition in whatever space you're building.
We Specialize in Large Volume Runs and Rush Deliveries
No matter how many pieces you need or how quickly you need them, ABEL Corp. can deliver. We specialize in large-volume modular cabinets and furniture pieces and have designed our state-of-the-art manufacturing plant to accommodate the needs of the largest builders in the world. And if time is of the essence, we promise to keep our plant up and running 24/7 until your order is filled.
Modular Builders Love Us, You Will Too
We understand the demands and challenges modular builders face, which is why we go above and beyond to accommodate your needs and do everything we can to make sure your build goes smoothly. Modular construction projects can involve a lot of moving pieces, but when you partner with ABEL Corp. you can rest assured that at least one component of your project will be completed without trouble or delay.
Here are some of the reasons why ABEL Corp. is a preferred cabinetry and furniture supplier for some of the leading commercial and industrial modular builders in North America:
Designed for Easy Installation – Our products can be shipped knocked down and ready-to-assemble (RTA) or pre-built from our manufacturing plant or one of our remote locations. In either case, once our products arrive your crews can get them in place fast so you can turn your attention to other areas of the build and finish the project on time.
Free Onsite Trailer Shipments – We understand and appreciate the challenge of coordinating a modular build, which is why we offer to leave trailer shipments onsite free of charge so you can store and offload products at your convenience as you need them. When the trailer is empty, we'll swap it out with a full one. And thanks to our intelligent palletized system, orders are fast and easy to offload and assemble.
Real-Time Mockup Room – For large-volume orders, we offer clients a live feed inside one of our mockup rooms so they can see their product being built in real-time and make changes before we ramp up production. If the specs or scope of work changes on your end, you can quickly request changes on ours to accommodate your needs and prevent delays.
Free Project Estimating – We provide free one-on-one project consultations to help you accurately price and scope your build. Our estimates will ensure that you accurately quote a job so you can feel confident and avoid underbidding or overbidding a contract. Our project estimating and consultation services can also help us develop specific products for you to streamline installation, reduce labor costs, and get the project completed as fast as possible.
We look forward to hearing from you and learning more about your cabinetry and furniture needs. Contact us online or call (877) 440-2235 to speak with a project manager.
Contact the sales team for a consultation on how we can help with your project at 1-877-440-ABEL.